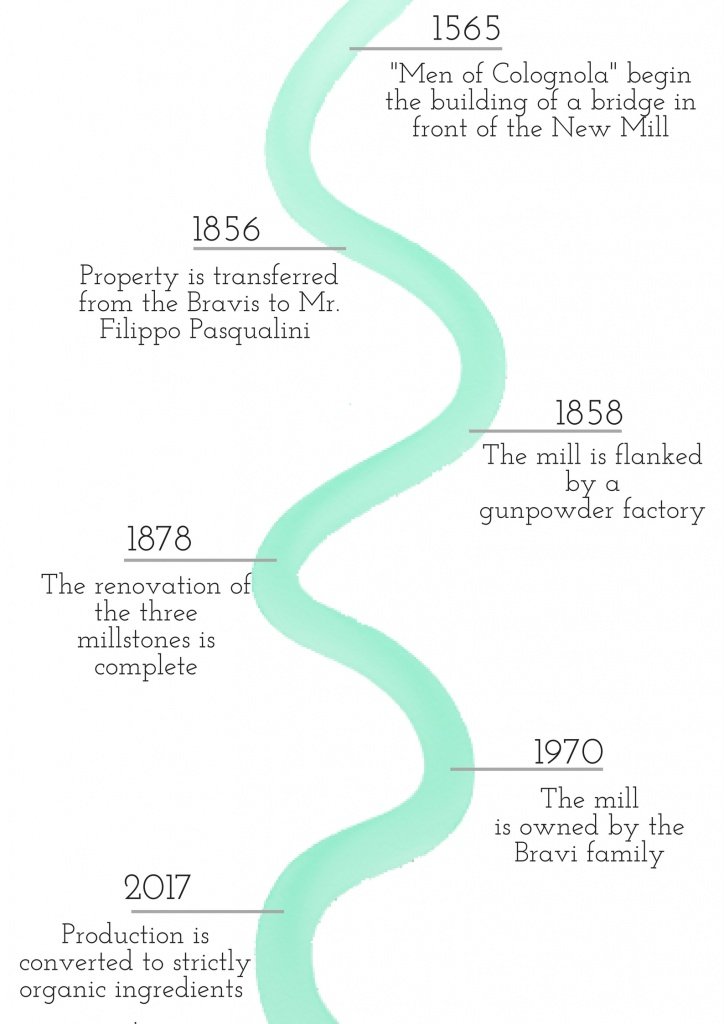 Available historical documents dates back the mill already to 1565, when, on April 24th "men of Colognola want to build a Bridge on the River in front of the New Mill and obtain from the Municipality 60 'soma' (approximately one tenth of a cubic meter) of concrete" (note 1).
From that time onwards, the water-powered millstone has been managed by the Bravi family, although the Bravis have not always be the actual owners. In 1856, in fact, the mill was owned by Mr. Filippo Pasqualini, an entrepreneur of the Papal State.
During those years, the force of the water's movement was used beyond driving the millstones, as it was also employed for the production of black powder under the authorization of the Austrian Royal Command in Ancona. In 1858, the gunpowder magazine close to the Mill employed around 80 workers (note 2).
In the following years, the mill turns into a real factory of that time, including an oil mill and a sawmill. In this way, the hydraulic system, thanks to a series of waterfalls, allowed the same water to grind wheat and olives and to cut logs into lumber.
In 1970, the mill is bought by the Bravi family and Guido became the owner. His great passion and perseverance allowed the recovery of the mill and the continuity of a business activity that was in crisis during that period.
After Guido's death, his three sons, Francesco, Ubaldo and Andrea, became the new owners and in 2017 the production of flours is converted to the use of strictly organic ingredients.
NOTE 1:
Zibaldone storico cingolano (sec. XVIII), segnato A.H.C. n. 15, pag. XXVI, n. 117 – Biblioteca Bernardi – Roma – Cit. in P. Appignanesi (1986), Cenni storici e descrittivi del mulino a palmenti e dei ruderi di un'antica polveriera, di proprietà del Sig. Guido Bravi, siti nel territorio cingolano in località Molino Nuovo, Museo Civico di Cingoli.
NOTE 2:
 F. Raffaelli, Alcune osservazioni sul quadro sinottico dell'industria dello Stato Pontificio, Recanati, 1858, p. 12 – Cit. in P. Appignanesi (1986).